Continuous futures
ContinuousSecurityWindow - is a visual editor for creating continuous (ContinuousSecurity) instruments. See Continuous futures.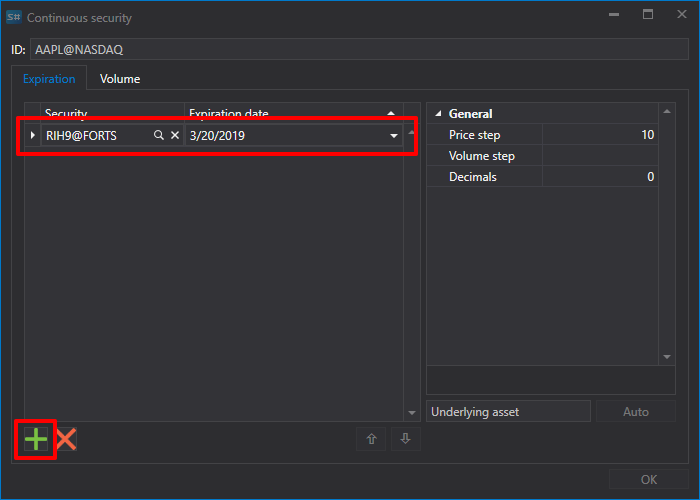 This component includes:
Special SecurityIdTextBox text field, whivh generates a continuous instrument with the input of Id - [Code]@[Board].
The SecurityJumpsEditor component is a special DataGrid for working with instruments that are part of a continuous instrument. The component instruments are wrapped in the SecurityJump, class, which has two properties: SecurityJump.Security and SecurityJump.Date (roll forward). The added instruments are stored in the SecurityJumpsEditor.Jumps. list. The component has the SecurityJumpsEditor.Validate function to check the correctness of the component instruments.
Buttons for adding/removing instruments.
Auto button allows you to automatically create a continuous instrument.
Ok button completes the creation of a continuous instrument.
Main properties
Below is the code snippet with its use.
private void CreateContinuousSecurity_OnClick(object sender, RoutedEventArgs e)
{
    _continuousSecurityWindow = new ContinuousSecurityWindow
    {
        SecurityStorage = _entityRegistry.Securities,
        Security = new ContinuousSecurity { Board = ExchangeBoard.Associated }
    };
    if (!_continuousSecurityWindow.ShowModal(this))
        return;
    _continuousSecurity = _continuousSecurityWindow.Security;
    ContinuousSecurity.Content = _continuousSecurity.Id;
    var first = _continuousSecurity.InnerSecurities.First();
    var gluingSecurity = new Security
    {
        Id = _continuousSecurity.Id,
        Code = _continuousSecurity.Code,
        Board = ExchangeBoard.Associated,
        Type = _continuousSecurity.Type,
        VolumeStep = first.VolumeStep,
        PriceStep = first.PriceStep,
        ExtensionInfo = new Dictionary<object, object> { { "GluingSecurity", true } }
    };
    if (_entityRegistry.Securities.ReadById(gluingSecurity.Id) == null)
    {
        _entityRegistry.Securities.Save(gluingSecurity);
    }
}

Recommended content